"Low mortgage loan interest rates and easy access to them will also have an impact on increasing demand in 2022, believes Georgi Shopov, Chairman of the National Association of Building Contractors /NABC/
The investment in housing last year was justified.
The supply of residential property will not be able to meet the demand in the next year either. In addition to traditional reasons such as personal necessity and the desire for a secure investment, there are additional factors catalysing activity, writes economynews.bg.
This is what is stated by the National Association of Building Contractors (NABC) in its expectations for the upcoming year 2022.
"Internal migration is a lasting trend – more and more people continue to move to big cities where they can find better incomes and living conditions. Big cities are also preferred by those of our compatriots who have worked abroad and return to Bulgaria to settle permanently. Both groups are active property buyers", says Georgi Shopov, Chairman of NABC.
According to him, among the key factors that will have a strong impact on the construction sector next year is the desire of people to improve the environment they inhabit. Already there is a steady group of buyers who have lived in panel housing but have money set aside which they decide to invest in a new-build apartment. To complete the deal, they either sell the old panel property or take out a mortgage.
"Low mortgage interest rates and easy access to these loans will also influence demand in 2022. Unfavourable deposit terms and rising inflation leave people less hesitant about what to do with their savings – these buyers want to protect their spare cash from devaluation", says Georgi Shopov.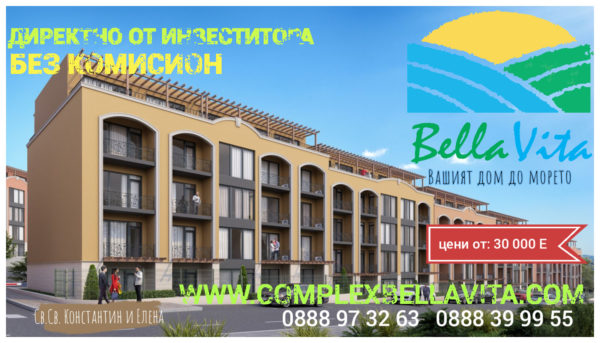 According to him, not only the activity and interest of buyers will be the reason why supply cannot "catch up" with demand. Some difficulties in building new projects are also a factor. Shopov points to the high administrative burden in the implementation of each new object, but also the lack of available land with suitable infrastructure.
According to the NABC, in 2022 we will witness an additional price increase, which will be around 17%, the main reason for this will be dynamically rising inflation. The association points out that currently the growth in prices of building materials is equivalent to 27% from the beginning of 2021. There is a significant amount of money that has been put into circulation. Another reason for the increase in prices is the administrative burden in the investment process, which leads to a decrease in supply and, consequently, to an increase in the price of the final product, the NABC further commented.